Nepal trek - Ghandruk
Distance:

4-6 days, around 25 km

Altitude:

Between around 1000m and 2000m,
up around 1500m, down 1000m

Start:

Nayapul, Birethanti

Finish:

Phedi

Season:

Spring, Autumn

Difficulty:

Some steep steps, up to 700m ascent per day

Greetings:

Namaste
Summary
This Ghandruk trek starts from the same place as the Jomsom trek but makes a shorter, lower loop back towards Pokhara. It can be done as a self-guided trek, but is often done as an organised, all-included trip using higher-standard accommodation and porters.
Getting there and back
As described here, the trek starts at Nayapul (new bridge) on the main road not far from Birethanti. From Pokhara this is around 30km by bus or taxi, and easily arranged. It's a popular start point for several treks so it's well known. The end of the route is at Phedi which is also a popular access point from the main road, with either bus or taxi connections back to Pokhara.
Google Earth
This kmz file (1 kb) contains waypoints from the Ghandruk trek and shows the main waypoints along the route. Simply open it in Google Earth (File -> Open) and you'll see the route in full. Press the "Play Tour" button below the listed waypoints and you can fly a tour along the route.
The pics
Fishtail mountain on the way to Ghandruk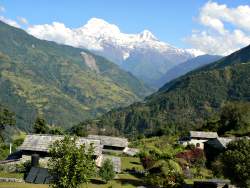 View down the valley from near Ghandruk
The trek
Birethanti - Ghandruk - Birethanti - Majgaun - Dhampus - Phedi
The start of the trek is at Nayapul, easily reached from Pokhara. From there it's a short and easy walk to Birethanti, and on to the first night's accommodation at the Sanctuary Lodge just above the village. An easy start!
The next stage of the trek is one of the longest, heading north up the Modi valley to Ghandruk, with spectacular views of the Annapurna range. This is the highest and northernmost point of the journey.
The third walking day leads back down the valley but on the other side, through Kimche and back to Birethanti. It's all downhill but some of it fairly steep.
The next section is a short one, uphill to the east to the village of Majgaun.
The final day continues eastwards up to Dhampus, and then drops down to the valley floor at Phedi and the end of the tour.

The waypoints
The following are approximate coordinates for waypoints along this route, obtained from maps and internet resources. They can be used either in a GPS receiver, or along with a map, to provide additional references if necessary.

                            Latitude       Longitude    Altitude(m)
        Nayapul/Birethanti N 28°17'59"     E083°46'14"     1060
        Sanctuary Lodge    N 28°19'39"     E083°47'45"     1120
        Ghandruk           N 28°22'40"     E083°48'27"     2020
        Majgaun            N 28°19'18"     E083°48'29"     1450
        Dhampus            N 28°18'06"     E083°51'45"     1650
        Phedi              N 28°17'27"     E083°52'43"     1150

More info
While we can't recommend any specific companies for this trek, there is some useful information about the lodges mentioned here at Audley Travel's page and Saga's tours include a description of their itinerary (see "Trekking in Nepal").