Nepal trek - Annapurna circuit
Distance:

around 20 days, around 220 km

Altitude:

between around 750m and 5400m,
up and down around 10000m

Highest point:

Thorung La pass (5400m)

Start:

Besi Sahar

Finish:

Nayapul, Birethanti

Season:

Autumn, Summer

Difficulty:

Huge variety of terrain, severe altitude over pass

Greetings:

Namaste
Summary
The Annapurna circuit is a long-distance trek making an arc around the Annapurna mountain range in Nepal. It is a much more serious undertaking than the other treks listed here though, as it takes around 3 weeks and most importantly climbs to an altitude of 5400 metres (almost 18,000 feet) and so altitude sickness is a real concern. The reward, though, is a fantastically varied tour through all sorts of spectacular terrain, with views of all the major Annapurna giants.
The standard route for this trek is to start from Besi Sahar (or further up at Bhule Bhule) to the east of Pokhara, and follow the valley up to the north. Then it twists to the northwest, still climbing steadily along the valley, through Manang, before the final steep climb over the Thorung La pass. Here, great care is required with acclimatisation to avoid altitude sickness. Then the trail drops over the other side westwards to Muktinath and follows the Jomsom trek in reverse down the Kali Gandaki valley to Birethanti.
There are of course variations possible on this traditional route. A detour to the Tilicho Lake west of Manang is one popular addition, and from Ghorepani it is possible to go via Ghandruk rather than continue down the Kali Gandaki valley to Birethanti. Some trekkers also add a detour to the Annapurna Base Camp and back.
Accommodation is plentiful but basic, and doesn't normally need to be booked in advance. Porters are also not required, but then fitness is necessary for the high altitudes if you're carrying all your gear yourself.
Getting there and back
Due to the popularity of this route, there should be no difficulties in organising bus transport from Pokhara to the start of the hike. Traditionally the walking has started at Besi Sahar, but according to the wikitravel article, road building has encouraged many to now start a few kilometres further north at Bhule Bhule instead.
From the end of the hike at Birethanti, you'll need either a bus or taxi for the 30km ride back to Pokhara. As the start of the Jomsom trek, this point is well known and regularly served in the main walking season.
Google Earth
This kmz file (29 kb) contains coordinates from the Annapurna circuit and shows one possible route including a detour via Ghandruk. Simply open it in Google Earth (File -> Open) and you'll see the route in full. Press the "Play Tour" button below the listed waypoints and you can fly a tour along the route all the way from Besi Sahar to Birethanti.
Note that this coordinate file was based on GPS data kindly supplied by Frank Jones, together with additional info from Openstreetmap.
The trek
Besi Sahar - Dharapani - Chame - Manang - Thorung La - Muktinath - Jomsom - Ghorepani (Poon Hill) - Birethanti
The following picture shows a 3d view of the route, starting from Besi Sahar and looping round to Birethanti. It clearly shows the long steady climb up to the Thorung La, with the steep final ascent, and the much lower peak of Poon Hill on the final stages.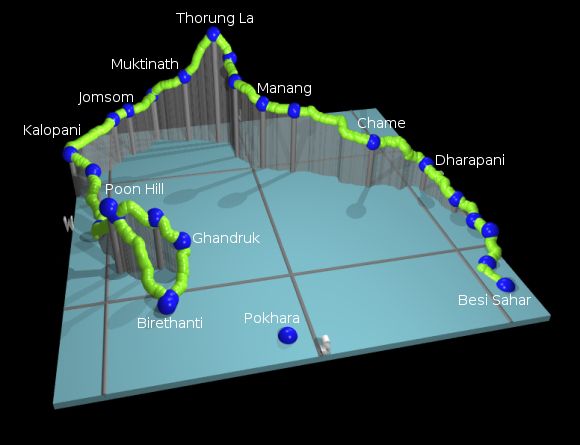 With the number of accommodation offers along this route, each trekker can go at their own pace and arrange their trek appropriately. Some people manage to sprint round in a couple of weeks, but many take over three weeks including rest days, essential acclimatisation days and possibly bad weather days.
For a more detailed outline of the western portion of this circuit, see the Jomsom trek description.
The waypoints
The following are approximate coordinates for waypoints along this route, obtained from maps and internet resources. They can be used either in a GPS receiver, or along with a map, to provide additional references if necessary.

                            Latitude       Longitude    Altitude(m)
        Besi Sahar         N 28°14'12.8    E084°22'19.2     807
        Bhulbule           N 28°17'25.9    E084°22'14.9     829
        Ghermu             N 28°22'44.5    E084°24'12.2    1145
        Dharapani          N 28°31'05.8    E084°21'31.1    1895
        Thanchok           N 28°32'53.3    E084°17'11.2    2653
        Manang             N 28°39'52.4    E084°01'29.9    3537
        Letdar             N 28°44'28.6    E083°58'22.9    4230
        Thorung La Pass    N 28°47'36.2    E083°56'19.4    5410
        Muktinath          N 28°48'58.6    E083°51'52.8    3667
        Jomsom             N 28°46'55.4    E083°43'22.8    2748
        Marpha             N 28°45'11.7    E083°41'14.5    2685
        Tatopani           N 28°29'43.6    E083°39'13.1    1243
        Ghorepani          N 28°24'09.8    E083°42'00.6    2872
        Poon Hill          N 28°24'00.0    E083°41'22.3    3183
        Ghandruk           N 28°22'33.0    E083°48'27.5    2028
        Birethanti         N 28°18'35.2    E083°46'28.1    1036

More info
A description of the whole Annapurna circuit in German is available at Wikipedia and in English at wikitravel:Annapurna Circuit. There's also some information in English about the Thorung La pass, the Kali Gandaki valley and the mountain Dhaulagiri.
According to Austin Pick's page, there's a road-building project underway in the upper Kali Gandaki, all the way up to Muktinath, which for some could spoil the whole trek. Walking along a road dodging motorcycles isn't quite the same as trekking along a remote footpath in a wild valley. Check out the latest situation before deciding on a route. More information from the BBC: Nepal's shrinking Annapurna Circuit.