Snowboarding - Montafon
| | |
| --- | --- |
| Area: | Kapellalpe / Hochjoch / Grasjoch |
| Base: | 700m |
| Summit: | 2420m |
| Skiable vertical: | 1720m |
| Lifts: | 8 |
| Total lift vert: | 2700m |
| Slope orientation: | West- and Southeast-facing |
| | |
| | |
| --- | --- |
| Area: | Garfrescha / Valisera / Nova / Versettla |
| Base: | 810m |
| Summit: | 2220m |
| Skiable vertical: | 1400m |
| Lifts: | 15+ |
| Total lift vert: | 3800m+ |
| Slope orientation: | North- and southeast-facing |
| | |
Silvretta-Montafon is a large and popular resort strung out along the valley in Western Austria. It's very close to the border with Switzerland (Davos / Klosters is just a few kilometres to the Southwest).
The Silvretta-Montafon ski area actually consists of (at least) four different areas, with some rather confusing naming. They call the whole collection "Silvretta-Montafon", but they also call the largest connected area "Silvretta-Montafon", (the other three areas being Kristberg (to the North near Silbertal), Golm (to the West above Tschagguns) and Gargellen (to the Southwest).
To make things more confusing, the central area "Silvretta-Montafon" is actually split into two areas on each side of the valley, but there aren't clear names for these two sections - so on the left side of the valley is Kapellalpe / Hochjoch / Grasjoch, and on the right is Garfrescha / Nova / Valisera / Versettla.
Getting there
For a zoomable, scrollable map of the areas, see this online map using Openstreetmap or Opencyclemap.
Main access is via Bludenz, with good road access to all the base stations and a train station at Schruns. Ski buses provide access along the valley from there. Zürich HB has direct trains to Bludenz via Sargans taking around 2h15.
Which village or train station you need to get to will be determined by the ski areas you want: There are several base stations but not all of them have ski runs down to them. Check out the following diagram.

(up to Stausee for base of Golm area)

from Bludenz
. . .


(up side valley to Kapell Tal, Kristberg)

Schruns

lift to Kapellalpe, Hochjoch, Grasjoch

Zamang Tal

lift to Kapellalpe, Hochjoch, Grasjoch
(up side valley to Gargellen area)

. . .

lift to Garfrescha, Valisera, Versettla

Valisera Tal / St Gallenkirch

lift to Kapellalpe, Hochjoch, Grasjoch
lift to Garfrescha, Valisera, Versettla

Garfrescha Tal / St Gallenkirch

lift to Garfrescha, Valisera, Versettla

Versettla Tal / Partenen
From Switzerland, there's easy access by car via the Rheintal, with motorway access on the A14 all the way to the Bludenz-Montafon exit (for which you'll need an Austrian motorway vignette). There's plenty of parking at each of the lift base stations, but note that not all of the base stations have ski runs leading down to them, so you may have to return to your car by gondola, chairlift or ski bus.
There are various different ticket prices depending on which area you want to use. Currently (2012/2013 season), the cheapest area is Kristberg at EUR 30 for the day, and the most expensive are the two main areas at EUR 44.

Slopes and lifts
3D plot of the Hochjoch area, showing some of the runs and lifts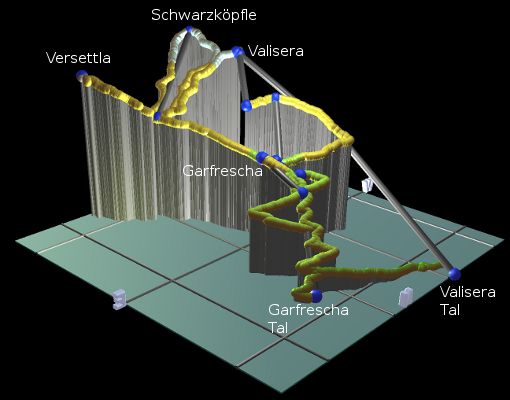 3D plot of the Nova area, showing some of the runs and lifts
Coming from Bludenz, you firstly have the choice of turning left into the side valley to Silbertal for the Kristberg area, or turning right up to the Stausee for the Golm area. Straight on leads to Schruns and two of the base stations of the Kapellalpe / Hochjoch / Grasjoch area. There may be more parking available at the Zamang Tal lift, but note that there are no runs back down to here, just the gondola back down again.
Beyond Zamang Tal, you reach the double base station of Grasjoch Tal / Valisera Tal, providing gondola access to both Grasjoch and Valisera. But you'll still probably choose only one of these areas to explore in a single day, as going to both would waste a lot of time getting across from one to the other. Further up the valley is Garfrescha Tal, with chairlift access to Garfrescha, and further still is Partenen with a gondola up to Versettla.
Kapellalpe / Hochjoch / Grasjoch
This is a big area, with almost all runs being very manageable reds and blues. The best access is via Hochjoch Tal or Zamang Tal, and if you don't like drag lifts it's no problem at all, all the lifts are modern chairlifts and gondolas.
One of the highlights here is the long long run called "Hochjoch Totale", it's prominently marked on the piste maps but not so obvious on the snow. It's certainly very long though, if you do it in one go, just beware that it goes through a loooong tunnel which can be tedious to get through if the snow is slow.
Garfrescha / Valisera / Nova / Versettla
On the other side of the valley, the best access is from Valisera Tal, whisking you up to the Valisera area. From Garfrescha Tal it's quick up to Garfrescha but then an awkward combination of chairs and the Jöchle T-bar up to Valisera. Again, the runs are mostly reds and blues, with a handful of black runs and "routes".
Recently built was an 8-seater chairlift called "Silvretta Bahn" from Garfrescha Tal up to Valisera, bypassing the older chairs and T-bars, which should have now speeded up access from here.
In general the area is extensive and easy to navigate, although the snow parks were a disappointment. But the lift network is well connected and there are more opportunities to explore in different directions than on the Hochjoch side.
More info
The main Montafon website is at montafon.at, with a tiny overview map. The link "Go to the piste map" leads to a dynamic flashy map by intermaps.com, but you have to navigate a slew of javascript-hungry trackers and advertisers.