The Alpine Pass Route
The Alpine Pass Route, as its name suggests, is a long route crossing several passes in the Alps. More specifically, it crosses Switzerland from Sargans in the East (near the Liechtenstein border) to Montreux in the West, on the shore of Lac Leman (Lake Geneva). The total distance is around 350km, and can take around 20 days of walking (plus rest days and bad weather days).
| | |
| --- | --- |
| Number of Days: | 19 |
| Passes crossed: | 16 |
| Approx dist: | 354 km (220 miles) |
| Climb: | 19500m (12.1 miles, or 2.2 Everests) |
| Descent: | 19600m (12.2 miles, or 2.2 Everests) |
| Highest point: | Blümlisalphütte, 2820m |
| Lowest point: | Lac Leman, 390m |
Obviously hardcore hikers will prefer to tackle the whole route in one go, but the convenient transport connections make weekend sections quite feasible. With weekend trips, the hiker can carry a bit less stuff, doesn't have to worry about washing socks and shirts along the way, doesn't have to take time off from work, and can choose on which good-weather days to tackle the next stage. And perhaps more importantly, the legs are fresh, the feet are free from blisters, and the mind is keen to get on the trail. But of course it can mean having to take a Winter break in the middle.
Naming / signposting
When this guide was written there were no signposts for the alpine pass route, there were only (many!) signposts along the way pointing to the next town, or the next pass. Since then there has been an effort to standardize the signposting and many signposts now show the so-called "Via Alpina" as the national route number 1. However, there is unfortunately more than one route called "Via Alpina", with four different colours, and the routes don't exactly coincide with the Alpine Pass Route as described here. For example, the "green" Via Alpina doesn't start in Sargans (which makes a perfect starting point for the Alpine Pass Route), but instead starts at some nameless track junction halfway up a hill in Liechtenstein.
In general you should use all the recommendations here and the "Via Alpina" signposts as a guide rather than anything definitive, and if you prefer to take a shortcut or additional diversion then that's all part of the route. Personally I would recommend strongly to start in Sargans, as there is nothing at all at the start of the "Via Alpina" signs and nothing to be gained from crossing the Rheintal on the way to the start of the Alpine Pass Route.
Route map
The Alpine Pass Route from Sargans to Montreux. See below for descriptions and photos
On the right is a map of Switzerland showing the Alpine Pass Route. As you can see, the route is fairly direct, travelling in more or less a straight line across the country. It starts in the east, close to the Liechtenstein (and Austrian) border, and finishes in the west near the French border.
As you can also see, it passes through the heart of the Alps and over several passes (hence the name). The passes are generally over 2000m, some over 2700m, but the route drops right down to the valley floors inbetween, which are often at around 1000m or lower. This means that there is a hefty amount of climbing and descending to be done on many of the sections. A contour plot is given below.
You can also see the route on activityworkshop's own online map using openstreetmap's magic.
The scenery that the route passes through is some of the most spectacular in the country, passing through a whole swathe of the Alps and in particular the famous Berner Oberland. It also passes through many famous Swiss towns such as Engelberg, Meiringen, Grindelwald and Kandersteg. The fact that these places are reached by crossing spectacular and historically-important mountain passes makes for an immensely rewarding trip.
Note also that there are several minor and major variations on the route, including in particular just covering a limited section of the route, or diverting south to Martigny instead of Montreux, and various options to the West of Lenk.
Contour
The Alpine Pass Route is not exactly flat, as can be seen from the profiles: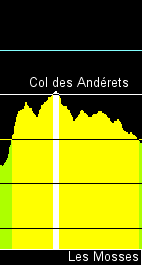 Coordinate files
If you want to do the Alpine Pass Route yourself, you may want to take some coordinates with you, just to make sure you don't get lost. Or you can use them in your favourite GPS program to see where you'll be going. There are two files available here to help you along:
This kmz file (10 kb) contains the basic waypoints from the Alpine Pass Route and shows the path as a red line snaking over the Swiss passes. Simply open it in Google Earth and you'll see the route in full. Press the "Play Tour" button below the listed waypoints and you can fly a tour along the route all the way from Sargans to Montreux.
Other programs such as GpsPrune can also show you this kmz file on top of OpenStreetMap, for example. Or to see it directly in your browser, see the online map, again prepared thanks to GpsPrune and OpenStreetMap.
This gpx file (20 kb) contains all the waypoints from the Alpine Pass Route (including bridges, signposts and junctions) and is suitable for transferring straight to your GPS. This can be done with a program such as GpsPrune.

Sections
In the following pages, each stage of the route is described in detail including waypoints and photos.
Although many of the stages fall into the 'easy' category, some of the sections are fairly tough, so a bit of preparation and training are highly recommended. On some days, for example the Grosse Scheidegg, public transport covers the whole route, so it's a simple matter to cut the walk short if you're tired / footsore / threatened by lightning. On other stages, for example the Richetlipass, things are a bit more remote and it's difficult to take a short-cut. Many stages give you the option of taking chairlifts, cable cars or mountain railways to avoid the climbing, but others don't. There are many detours or alternative routes too, so it's well worth doing a little research to keep each day's walking within your enjoyment range, by choosing your overnight stops accordingly.
Above all, have fun. This shouldn't be a gruelling endurance test. Sample single days, take the available buses or cable cars to make things more enjoyable, and concentrate on the bits you're most interested in. See the links below for more impressions of the route.
Also, please feel free to share your experiences. Any additional information, corrections, suggestions and comments would be gratefully received by email - all due credit will be given.
Book proposal
A while ago I wanted to poll the readers of this section, too see if there was any demand for a booklet version of these guides. Would it be useful to have a properly printed, detailed guide to the Alpine pass route which readers can order (and pay for), and take along with them?
It would certainly be possible to take this section's content, rearrange to fit into a book, add additional content which is difficult to make available online (more colour photographs, high resolution plots and maps, altitude profile charts and so on) and make it available for ordering through an online print-on-demand service. However, it would only be worth going to this trouble if there is an audience for it. Readers were encouraged to let us know by email including perhaps a rough idea of what extra information they would find useful.
Feedback : well, this proposal has been posted here for over two years now, and the response has been deafening silence. Until one hopeful email November 2010, asking how far along the project is and will there be updated photos... unfortunately given the reader response it's clearly not worth investing the time and effort to produce a book/booklet which is only going to sell one copy. And to take "updated" photos and update all the accommodation information, I'd have to do the whole APR again, and that doesn't look like it'll happen in the near future. A very short email in October 2011 brought the total of potentially interested readers to a massive 2, but again the answer is still that it's not worth it, even if both those enquirers actually would buy a copy. Sorry.
I'm a little surprised to see that the Lonely Planet and Cicerone books haven't been updated either recently, I don't know why. Maybe those well-known books are still selling well and the route information is still current. In any case, feel free to use all the information here on these pages as you wish, and enjoy the spectacular APR.
Other links
For more websites and books, see the links page.
Or, if you found any of that useful, you may also be interested in trying some Day Hikes in Switzerland, longer hikes in Switzerland, or some Snowboarding in Switzerland as well.